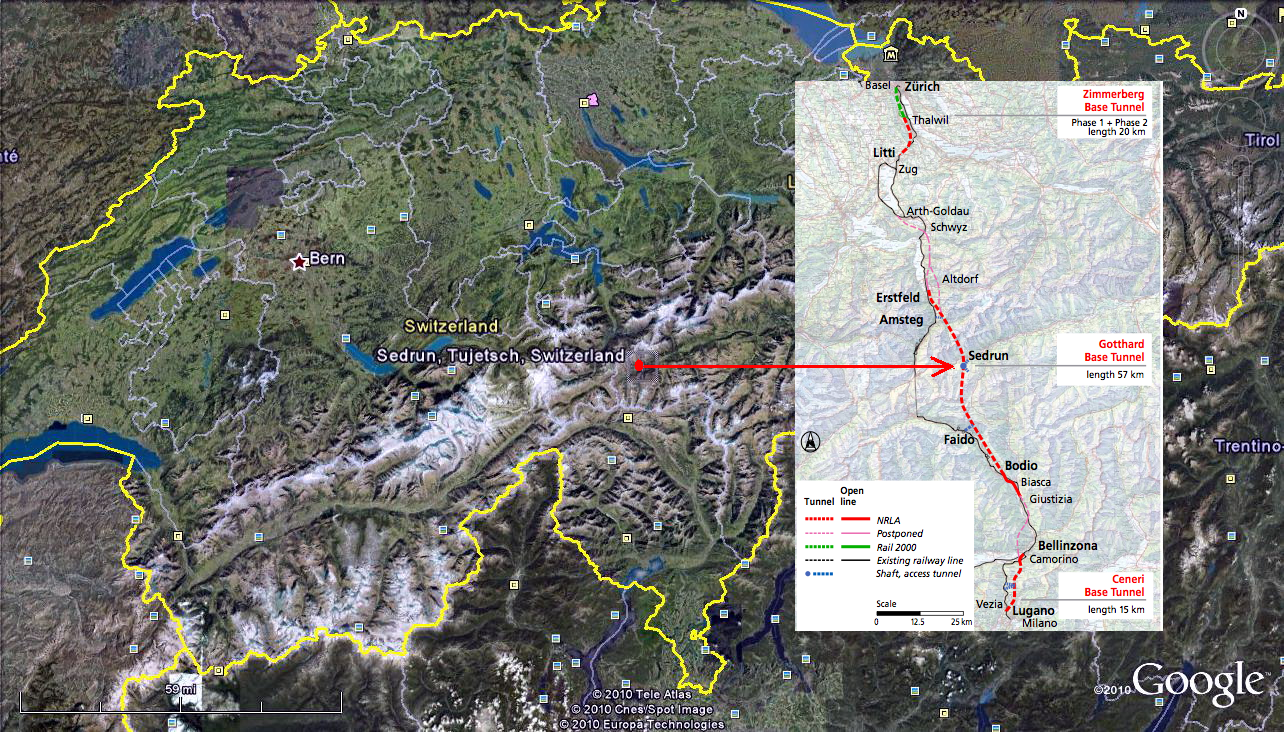 It opened on 1 June 2016 with full service to begin in December 2016. With a route length of 57.09 km (35.5 mi) and a total of 151.84 km (94.3 mi) of tunnels, shafts and passages, it is the world's longest and deepest traffic tunnel and the first flat, low-level route through the Alps. (Wikipedia and the official website listed below)
The project consists of two single-track tunnels connecting Erstfeld (Uri) with Bodio (Ticino) and passing below Sedrun (Graubünden). It is part of the AlpTransit project, also known as the New Railway Link through the Alps (NRLA), which includes the Lötschberg Base Tunnel between the cantons of Bern and Valais and the Ceneri Base Tunnel (under construction, scheduled to open late 2020) to the south. It bypasses the Gotthardbahn, a winding mountain route opened in 1882 across the Saint-Gotthard Massif, which is now operating at capacity, and establishes a direct route usable by high-speed rail and heavy freight trains. It is the third tunnel connecting the cantons of Uri and Ticino after the Gotthard Tunnel and the Gotthard Road Tunnel.

The main purpose of the Gotthard Base Tunnel is to increase local transport capacity through the Alpine barrier, especially for freight, notably on the Rotterdam–Basel–Genoa corridor, and more particularly to shift freight volumes from individualized movements of from one to four twenty-foot equivalent units (TEUs), hauled by trucks on highways; to fifty or more rail TEU movements (at 100+ TEUs per train); per line-haul movement, by freight trains. This will not only eliminate the danger of fatal truck-auto road crashes; it will also tremendously reduce the environmental damage (per ton-mile of freight hauled) that is caused by the ever-increasing number freight ton-miles hauled by heavy lorries. Another benefit will be to provide a faster connection between the canton of Ticino and the rest of Switzerland, as well as between northern and southern Europe, cutting the Zürich–Lugano–Milan journey time for passenger trains by one hour (and from Lucerne to Bellinzona by 45 minutes).
After 64 percent of Swiss voters accepted the AlpTransit project in a 1992 referendum, tunnel construction began in 1996. Drilling operations in the eastern tunnel were completed on 15 October 2010 in a breakthrough ceremony broadcast live on Swiss TV, and in the western tunnel on 23 March 2011. AlpTransit Gotthard Ltd. planned to hand over the tunnel to Swiss Federal Railways (SBB CFF FFS) in operating condition in December 2016; but on 4 February 2014, the handover date was changed to 5 June 2016 with the commencement of an 850-day opening countdown calendar on the AlpTransit homepage. Total projected cost of the project was 9.8 billion Swiss francs (€8.85 billion or US$10.3 billion[14]) but the final cost exceeded $12 billion. Nine people lost their lives during construction.
http://www.swisstravelsystem.com/en/gotthard-basistunnel.html