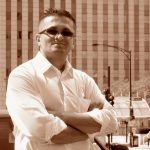 Marian Petruța prezinta de la Institutul Cervantes Chicago, Piesa Migraaants de Matei Visniek alaturi de Simina Contras. Un eveniment pus în scenă de Trap Door Theatre Chicago.
Evenimentul se inscrie in cadru International VOICES Project 2017.
They're from Pakistan, Afghanistan, Somalia, Eritrea, Syria, Irak, Lybia, Mali, Algeria, Morocco, Haiti and many other places where life is no longer compatible with the idea of a future. There are millions of them. How many million? No one knows. They're called "migrants" and they have only one thing on their minds: the desire to reach Europe.
About playwright:
Matei Visniec, playwright, poet and journalist, was born in Romania in 1956, and now lives in Paris. He began writing for the theatre in 1977. Early in his career, Visniec's plays were banned by the Romanian censors. In 1987 he was invited to France by a literary foundation. While there, he asked for and received political asylum. After the fall of communism in Romania, in 1989, Visniec became one of the most performed playwrights in the country. Visniec gained international attention in 1992, with productions of Horses at the Window in France, and Old Clown Wanted at the "Bonner Biennale". Since then, Matei Visniec's work has been produced in France, Germany, United States, Denmark, Austria, Poland, Finland, Italy, Turkey, Brazil, Romania, and Moldavia. Most recently, his play the word progress on my mother's lips doesn't ring true was the winner of the "Best Play in the Off-section" at the Avignon Festival in 2009.
In link puteti accesa postarea autorului Marian Petruța pe blogul personal http://rousa.blogspot.ro/